The Top 10 K Cup Brewer Deals and Buys
If you are here, you are looking for a deal on a K Cup coffee maker. Here we list the top 10 k cup coffee maker buys.
Let's face facts, buying a Keurig coffee maker can be a daunting proposition, unless you are made of money. I'm not, and very few people are. Keurig's can be very expensive! However, there are a good many other machines that also brew Keurig K Cups. In other words, you don't have to buy a Keurig machine.
In this article, we'll give a brief run down on Keurig and their machines, then list some alternative machines. Additionally we'll point out some places to find deals. Be aware that any prices we list are vbery likely to change! We are listing as we find them, right now.
Keurig is the K Cup Coffee Maker King 
When it comes to single cup coffee makers,
Keurig is the undisputed champion, the King of Koffee. Sorry, got karried away with the K's.
You can learn more about Keurig coffee maker story here. It's a great read! After reading this, you may opt to splurge on a genuine Keurig machine after all, pricey or not.
By the way, for you trivia aficionados out there:
Keurig was acquired by Green Mountain Roasters some years ago, becoming Keurig Green Mountain. Keurig Green Mountain then bought the  Dr Pepper Snapple group (yay Dr Pepper!) becoming Keurig Dr Pepper. This is traded on the stock exchange as KDP.
Keurig means Excellence in Dutch, but one of the founders states the name came from a Danish-English dictionary.
Alternatives to Keurig Coffee Makers
We want to make clear that these are solely K Cup type machines. Maybe in an other article we will list the Nespresso, and other types of, coffee makers that use different technologies.
Bella dual brew single serve coffee maker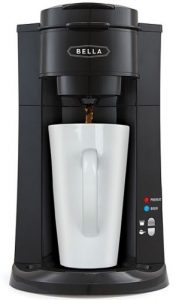 Regularly $49.99 at Kohl's, as of this writing you can pick this up for as little as $21.24 at Kohl's. It is also avaiable in a variety of colors, too. the Bella machine is called a dual brew because you can use K Cups, but it also comes with a refillable cup you can put your own coffee into. You can find this maker at Target, and others places at a variety of prices.
Farberware single serve coffee maker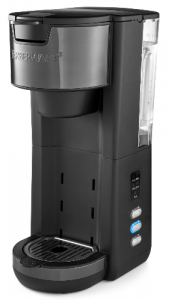 The Faberware machine is similar to the Bella machine, above, in that it allows you to fill a single cartridge of your own coffee, but it also comes with an adapter that will take K Cups too. Available at Walmart for about $30,and a similar machine at Amazon for about $45. The Amazon machine looks like a better version.
Brentwood Appliances K-Cup Coffee Maker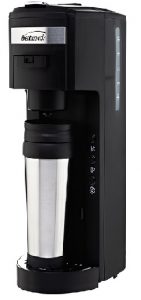 This K Cup coffee maker is like the other two above, in that it will take K Cups, Wide Awake Coffee type mesh cups, and you can brew using your own grounds as well. The Brentwood here has an added bonus: It comes with it's very own travel mug too.
You can find this at Walmart for $49.99, and on sale at Wayfair for $54.99.
Hamilton Beach Proctor Silex 10 oz. Single-Serve Coffee Maker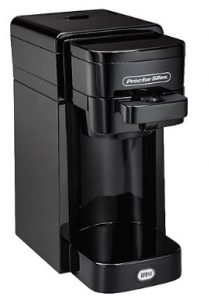 While this k cup coffee maker only makes one size coffee, 10 ounces, it is also very inexpensive. Hamilton Beach Proctor Silex always has been inexpensive, and packs a lot of bang for the buck. I have always has good luck with this brand.
Like the others above, you can use K Cups, or your own ground coffee.
Find this at Staples for $28.99, and at Walmart for $29.66.
Black & Decker
CM618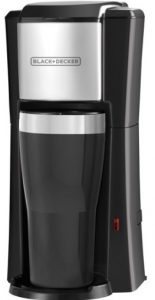 You can find the Black and Decker CM618 from $19.99 to $39.99 in various places from ebay to Walmart. From the Black+Decker website:
This is an ideal coffeemaker for an active, on-the-go lifestyle. Use coffee grounds or pre-packaged coffee pods to brew directly into the 16-oz. thermal mug that fits most car cup holders. Convenient one-touch operation and useful features like a removable filter basket with included permanent filter will make your morning coffee ritual a breeze. This machine has both dishwasher-safe parts and auto shutoff.
CHEFMAN - InstaCoffee Single Serve K-Cup Pod Coffee Maker - Stainless Steel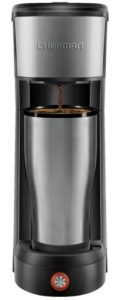 Best Buy has the Chefman single serve coffee maker for $49.99, with a price match guarantee. you can use your own ground coffee, or K Cups. This product also comes with a stainless steel travel mug.
Both Target and Amazon have this same coffee makers for about $39.
Frigidaire Single Serve - K-Cup Compatible Coffee Maker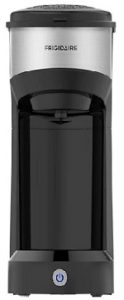 Belk.com has an offering with a great price. The Frigidaire Single Serve coffee maker takes grounds or K Cups for only $30, with free shipping.
Deals on Keurig Coffee Makers
Looking at the varying quality and prices for the above items, buying a genuine Keurig doesn't seem all that pricey. Bear in mind, also, that each of the above units were small form machines, largely commensurate with their prices.
So now for the Keurig coffee makers, which will round out our Top 10 K Cup coffee maker list. I mean, they created the market, they deserve some love too!
Keurig K-Duo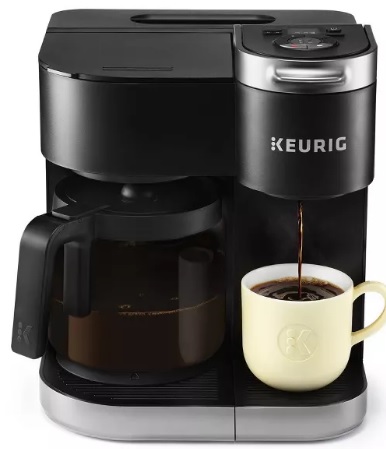 This is my personal favorite, because it is the best of two worlds.What's not to love! You can make a pot of coffee, or a sigle cup using a K cup pod. Or, if you're like me in the morning, one of each. the price is fair at about $150 at Target, for basically two machines. However, you'll only pay about $99 at Walmart for pretty much the same thing.
K Cup Coffee Maker Keurig Classic K Cup Coffee Maker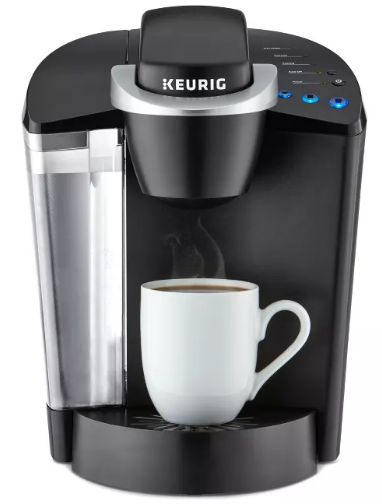 The is the original home-use workhorse. Tried and true, and the k cup coffee maker most responsibly for Keurig's success.
You can find this beauty at Target, on sale for just $89.99. Shop Walmart and it's, well, $79.99, regular price. Folks, I'm just looking for the best deals. It just so happens these retails have great prices.
Our former Top Pick - Tie - Keurig Classic, above
Mueller Single Serve Pod Compatible Coffee Maker Machine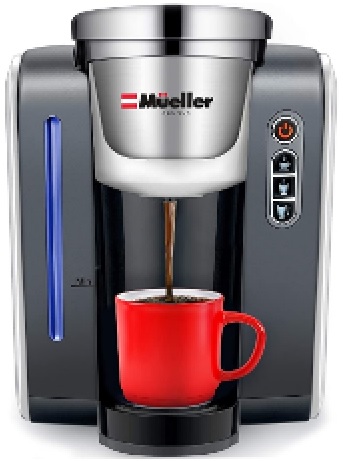 This little pretty is only $68.97 on Amazon.com, and if you're a Prime member, that means free delivery!
What makes this a winner, alongside the Keurig classic? Price, and features. It's footprint is full size, it's features are full sized, I just think it, arguably, gives the most bang for the buck.
Our NEW Fave in the Top 10 K Cup Brewers!
Right, so I wrote the article above a couple years ago. A lot has occurred in said time.
Just under 2000 reads of this article later the site went offline for about 6 months. I saved all my old articles, like this one, and have been moving them to the site 10 at a time. Let's face it, when you work a way full time job, you have to pace yourselves with your pastimes. Over the months that Delightful Coffee was offline, I purchased a new K-Cup brewer for the office at my day job. Basically it was a gift to the office. Why drink warmed over old coffee from a regular brewer when you can have near instant goodness! The word Instant is important here. My top pick in the Top 10 K Cup is:
Instant Solo Single Serve Coffee Maker
From the Makers of Instant Pot, this is a K-Cup Pod compatible brewer. It includes reusable coffee pod & bold setting, Brew 8 to 12oz., 40oz. Water Reservoir. The one I got was red. It was a Christmas gift, after all. I got it on Amazon.
What do I like about this k cup brewer?
This cost me only $79 at Amazon.
It's small, does not take up a lot of counter space.
The machine is relatively fast, more on that later.
Comes with a reusable k cup you can put your own coffee into.
It brews a full measure as advertised. See, my home Keurig, well, sometimes it shorts the cups for no darned reason.
What I don't like
The 40 oz reservoir is a bit small.
The "start to brew" time is a little slow.
Places to Find Deals
Over time the links above to current deals will eventually change, but no worries! These links here should always work!
Amazon Single K Cup Coffee Makers
Walmart Single Serve Coffee Makers 
Target Single Service Coffee Makers
BestBuy Single-Serve Coffee Makers
And, maybe hot, maybe not
Internetstealsanddeals.net
At this website they offer a totally free Keurig machine. Beware, however, as a "Sign Up" box forces you to become a member and probably receive newsletters forever in order to view the deal. As a result, you have no idea if the deal is still valid. You have to text a number to someone. Pass.
Lastly, if you're looking for a deal on the K Cups themselves, read this article!